I mean, for reals, how could I resist such a link up.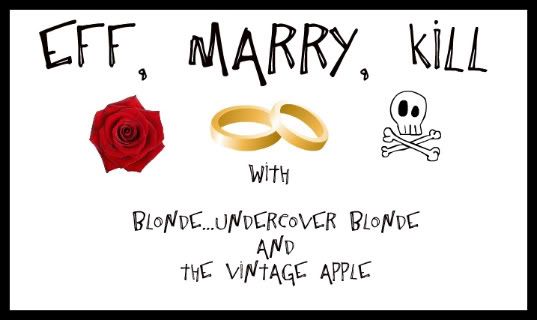 My job is to pick three celebrities and decide which one I would eff, which one I would want to marry, and which one I would like to...well...dispose of. Then your job is to tell me what
YOU
think.
Let's take this old school.
Boy Meets World
style.
I would like to think that ladies and gents of a certain age, aka my age, grew up watching this masterpiece. Whether it was watching Eric go from a popular "
good looking guy
" to Plays-with-Squirrels, seeing Shawn dress like a chic, hearing Eric yell for
MR. FEENY
, or looking into the camera and gasping "TOPANGA"...this was my sister and I's favorite show for years. So let's analyze some mens.
So if I HAD to pick. Marry Cori Matthews (Ben Savage), Eff Shawn Hunter (Rider Strong), and kill Eric Matthews (Will Friedle). Reasons? Marry Cori Matthews? Obviously. The man loves a good LTR (long term relationship). As the resident bad boy/hunk/daddy issues character on BMW, effing Shawn Hunter is a great choice. And, living with the Feeny call? No way. See ya later Eric Matthews.
What do you guys think? What would
YOU
do with the men of BMW?